Chart of the week from NN IP. Central banks cannot prevent price increases.
The inflation of energy and food prices caused by the war in Ukraine cannot be solved by central banks. For now, the Fed and the ECB maintain their hawkish positions. We believe that the Fed will act the most because the risk of a wage-price spiral and an unanchoring of inflation expectations in the United States is higher than in the euro zone. Another consideration is that the United States is less sensitive to the interruption of trade with Russia than the euro zone.
We are increasingly uncomfortable with the ECB's focus on inflation at a time when wage growth remains subdued and risks to growth are rapidly rising due to the impact of rising energy prices on disposable income.
The ECB seems too optimistic about growth.
For now, the ECB hawks appear to be winning, which we believe has increased the risk of policy error. The ECB seems too optimistic about growth and too complacent about the impact of tighter financial conditions on the sustainability of Italian debt. Since the end of January, the spread between Italian and German 10-year bonds has increased by 26 basis points, as can be seen in our chart of the week.
Italian bond spread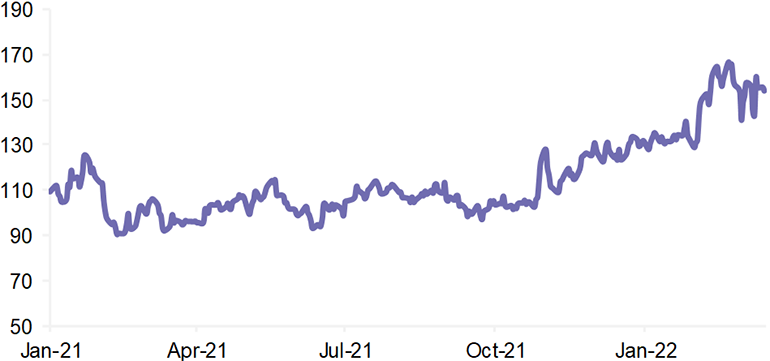 Yield spread BTP Italy – 10-year German Bund in bps
Source: data stream
Underweight 10-year US Treasuries
Our multi-asset model portfolio is still positioned for higher commodity prices and monetary policy normalization. Heightened geopolitical tensions surrounding the Ukraine crisis increase the risk of commodity supply disruptions, so commodity prices are expected to rise further. It is mainly for this reason that we maintain our moderate overweight in broad commodities. We are also maintaining our moderate overweight in copper, mainly due to the improving outlook for a Chinese policy stimulus, which should result in increased infrastructure investment. Data on Chinese economic activity for January and February showed that growth in infrastructure investment has already increased from 0% on average in 2021 to 8% year-on-year.
The Chinese authorities are expected to intensify their efforts to stimulate domestic demand, particularly on the monetary side.
High commodity prices aggravate the inflation problem. Whether they are right to do so remains to be seen, but the major central banks maintain their hawkish positions. Due to ongoing geopolitical tensions, we expect global fixed income markets to remain volatile. But overall, we think central banks' hawkish stance should put additional upward pressure on yields. Thus, we again underweighted US ten-year Treasury bonds, while remaining neutral on Bunds.
We are maintaining our large underweight positions in Eurozone Investment Grade and High Yield credit, which have worked well for us so far. We expect European corporate bond spreads to continue to widen as risk sentiment remains fragile, mainly due to the economic disruption caused by the war in Ukraine. We are also inclined to express our bearish view on US credit more explicitly by underweighting US corporate bonds as risks to the growth outlook and financial conditions have increased, again primarily due to the geopolitical situation.
Finally, we are maintaining our large overweight on Chinese 10-year government bonds. The recent spike in coronavirus infections and new lockdowns in Shenzhen and Jilin provinces have heightened the need for stimulus measures. The Chinese authorities are expected to intensify their efforts to stimulate domestic demand, particularly on the monetary side. This should put further downward pressure on yields.