Swiss leaders believe that the major challenges will be technological and economic, according to the Mazars C-Suite 2021 barometer.
Executives surveyed expect deep transformations in their technology (68%) and sustainability (62%) strategies
Environmental, social and governance (ESG) issues are now high on the agenda of executives and three quarters of companies plan to increase their investments in sustainable development
Mazars in Switzerland, a major player in audit, tax and consulting, publishes the new edition of its C-Suite 2021 barometer. This barometer, carried out in the fourth quarter of 2021, surveyed more than 1,000 managers from 39 countries of the whole world.
Upcoming transformations in technology and sustainability
The survey shows that leaders expect transformation in their business, with transformations related to technology and sustainability being the most named: nearly two-thirds (62%) expect to transform their sustainability strategy in coming years, just behind technological transformation (68%). Swiss leaders agree that technological and economic trends will be most important to them. Moreover, they are more likely than their international counterparts to predict that geopolitical trends will affect their business and less likely to highlight changing expectations in governance and ethics.
Figure 1: Transformations in technology and sustainability
Confidence and resilience
Companies are confident in their ability to respond to future trends: 94% of them believe they are able to respond to transformations in technology and innovation; 91% are confident in their ability to meet expectations in terms of governance, ethics and social responsibility. Additionally, 90% believe they can meet new or more stringent regulatory requirements. Most (88%) believe they have the resilience to overcome a crisis. Faced with the increase in cyber risks, 68% of the leaders surveyed are convinced that their data is completely protected.
ESG is an integral part of the executive agenda
The companies plan to transform their sustainability strategies, increase investments in sustainability initiatives and make public commitments on the subject. ESG is now an integral part of the executives' agenda. In Switzerland, funding issues are a relatively small barrier to ESG investing. Contrary to their international counterparts who believe that financing ESG investments is the No. 1 problem in developing sustainability in their companies. In Switzerland, it is the last factor listed. Reducing waste is the second environmental priority of world leaders; it is not among the top three priorities of Swiss leaders.
Figure 2: ESG commitments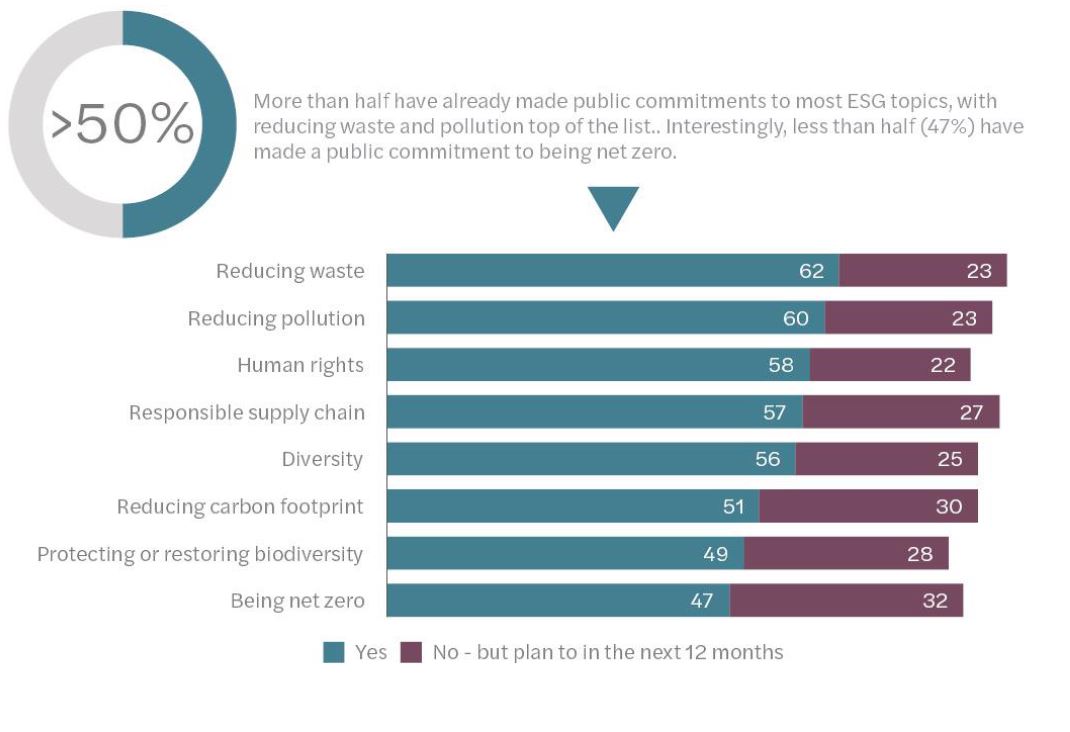 From strategy to action
To cope with the expected transformations, make the planned investments profitable and meet their commitments, particularly in terms of ESG, companies must move from intention to action.
To do this, they must set up the appropriate programs and surround themselves with competent people. Nearly two-thirds (63%) of businesses say the pandemic has changed the leadership styles their organization needs, but most (88%) believe they already have the necessary skills. Swiss managers are as confident as their international counterparts that their companies have the necessary skills to face the current challenges in the medium term. Nevertheless, Swiss leaders believe that adapting to teleworking and IT security are the main developments that will affect their companies in the long term due to the pandemic.
Figure 3: Necessary skills and leadership

Methodology
The Mazars C-Suite barometer was designed and produced by GQR Research, in collaboration with Mazars. The data was collected via an online survey between September 24, 2021 and October 25, 2021. The total sample is 1130 people, of which 1096 came from online panels and 34 were invited by email directly by Mazars.